So, I was searching for a high capacity rugged USB thumb drive, and now this Amazon ad keeps following me around the Internet: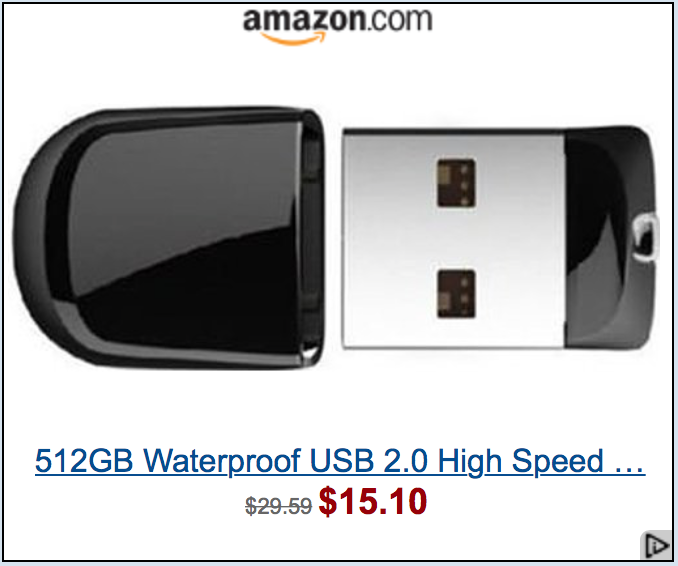 Wow! A tiny form factor waterproof 512GB USB thumb drive for only $15.10? That's a fraction of the size of a similar capacity drive from a name brand manufacturer, at less than one twentieth the price! It's gotta be too good to be true, right?
Of course it is. It's a scam. And it's not the only one. Amazon's search pages are actually stock full of ads offering high-capacity drives at literally impossible prices, and if  you click through, you'll usually find helpful reviewers warning you off… typically scattered among a bunch of scam reviewers touting a "great product!"
No, this particular scam drive isn't shipped directly by Amazon—but this one is. And Amazon is directly advertising these fakes both on its website and in ads like the one above, making it complicit in the scam. And in so doing, Amazon is surely fooling loyal customers by lending these ripoffs the credibility of its valuable brand. Makes you wonder if you can trust any bargain you find on Amazon? And if it doesn't, it should, because if it's happening with USB thumb drives, it's surely happening in many other product categories.
And no, Amazon isn't a victim here. The company has spent kajillions developing AI designed to sell us more stuff, so it's certainly capable of developing technology that flags impossibly priced merchandise as potential scams.
Just imagine the scandal if Walmart was found stocking its shelves with fake discount merchandise, possibly knowingly? So why isn't this a scandal when it's happening at America's largest online retailer?
Anyway, consider this post a free tip to ambitious investigative journalists, attorneys general, and class action lawyers. Because my Goldy senses tell me there's a lot more to this scam than one impossibly priced fake 512GB drive.