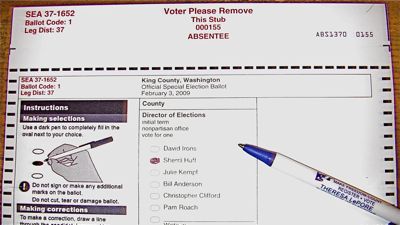 I'm not sure that I've ever voted by mail before, and so like a lot of inveterate poll voters it was hard for me to approach this election day any differently than previous ones.  But it is different, and if I don't get my ballot postmarked today, my vote just won't count.  And considering the subject of today's special election, if my vote doesn't count today, it just may not in the future either.
This is an election for Elections Director, and if you need any evidence of how stupid it is to elect a position that requires very specific technical expertise, just look at some of the names on the ballot:  gadfly, a liar, a right-wing gun nut looking for a six-figure salary….
And then there's our friend David Irons Jr., the Republican front-runner, a raging bullshitter with a documented history of financial mismanagement and abusive behavior.  But even more pertinent to this election, he's also a man with a documented history of violating our state's election laws:
From: Mark Banks
Date: January 25, 2009 1:12:43 pm PST
To: letters@redmond-reporter.com, letters@sammamish-reporter.com, letters@seattleweekly.com, letters@woodinville.com, letters@bellevue.com, letters@duvall.com, letters@covington.com, letters@seattletimes.com
Subject: Special Election of King County Elections Director

Dear Editor,

I am extremely disturbed to see that David Irons, Jr. is running for the important position of King County Elections Director.  David Irons is a thief who I personally caught red handed steeling campaign signs in Sammamish in 2002, when he was running for King County Commissioner.  I was driving by when I saw him dressed in his Sunday best climbing over the road barrier to pick up his opponent's signs and throwing them in the ditch.  I had heard stories of him steeling signs and loading up his van with them in a previous election, but this was the first time I saw it for myself.  I stopped and talked with him and demanded that he climb down the gully to retrieve the signs from the blackberry bushes, which he finally did.   Do we honestly want a man who would stoop so low to achieve personal political gain in a day and age when election fraud is rampant?

Mark Banks
Redmond WA
You want your elections managed by an unethical, partisan hothead?  Vote for Irons.  But if you want a dispassionate, experienced professional in the office of Elections Director, vote for Sherril Huff.
And by all means, get your ballot in the mail today.