As Erica reported yesterday over at Publicola, the whisper campaign regarding Seattle City Attorney candidate Pete Holmes is no longer a whisper, with both incumbent Tom Carr and his campaign manager Cindi Laws now publicly and repeatedly challenging Holmes' eligibility for the office.
Today, Carr reiterated that view. "The charter provision says that you have to be both active [with the bar] and engaged in the practice of law in Seattle," Carr said this morning. "He has not been practicing law—taking on clients, giving advice, doing the things that lawyers do."
Well, here is what the City Charter says about the qualifications for the office of City Attorney:
The City Attorney shall be an attorney of the Supreme Court of the State, and have been in the practice of his or her profession in The City of Seattle for at least four years next prior to his or her election.
And here is what the Washington State Bar Association says about Holmes' status as an active attorney: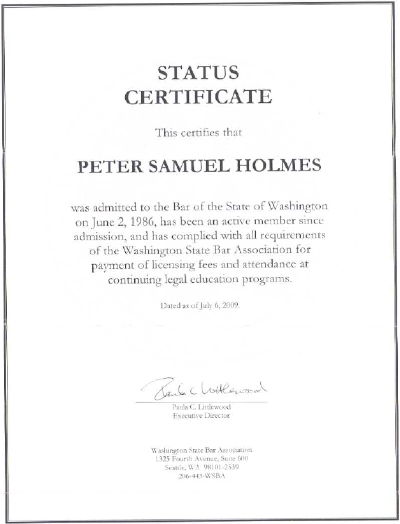 Clearly, Holmes has been an "attorney of the Supreme Court of the State" since 1986 (five years longer than Carr, by the way), so that part of the requirement seems beyond dispute. As for the requirement that the City Attorney have been in the practice of law in Seattle for at least four years prior to the election, here's what Holmes told me via email:
My Washington bar license has always been on "active" status. After 16 years in the private sector, City Council appointed me as the lawyer member of the OPA Review Board in 2002 (which expressly requires a WSBA member in good standing), where I practiced my profession in public service until the last quarter of 2008. I've been in private practice at Crocker Kuno PLLC since the first quarter of 2009. I was fully authorized to practice law during my OPARB tenure; I just didn't accept private, fee-paying clients—and presumably Carr hasn't either since 2002.
Now, I'm no attorney (much to my mother's chagrin), but I don't read anything in the City Charter that says anything about taking on private clients. If Holmes has been an active member of the Bar, and such membership was a requirement of his appointment to the OPA Review Board, then that sure sounds like practicing law to me, for why require an active attorney if not to benefit from his legal advice? And how, in this sense, is Holmes legal service to the city really any different from Carr's legal service, except by volume?
But all this niggling, legalist nitpicking is really beside the point, for if Carr truly believed that Holmes was technically ineligible to run for the office of City Attorney, the appropriate course of action would have been not a whisper campaign, but rather a legal challenge to his eligibility under RCW 29A.68.011, alleging that Holmes' name "is about to be wrongfully placed upon the ballots," and to be filed in King County Superior Court "no later than the second Friday following the closing of the filing period for nominations for such office"… a deadline long since passed.
I mean, Carr is the sitting City Attorney for chrisakes. I assume he knows this stuff.
No, instead Carr and Laws appear to be raising questions about Holmes' technical qualifications merely as an underhanded means of raising questions about Holmes' professional qualifications for the office. "Hey look… this guy is such a crappy lawyer he doesn't understand the law enough to realize he isn't even eligible to run for the office!" That seems to be the message coming out of the Carr campaign.
What this sort of cynical, political maneuvering says about Carr's own professionalism, I'll leave up to you.