I didn't go to DC this week as so many other political obsessives urged me, and I didn't go out to any inauguration watch parties or breakfasts or gatherings this morning, despite numerous invitations.  I just watched from my living room, my dog at my feet, my cat on my lap and a hot mug of green tea in my hands.
But on this day filled with symbolic imagery I did celebrate the historic event by making a personal, symbolic gesture of my own.  After more than four years of obstinate protest I finally removed the Kerry/Edwards sign from the front of my house.
10:22 AM PT, January 20, 2009: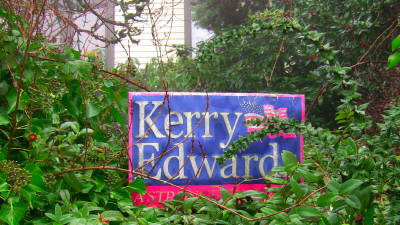 10:24 AM PT, January 20, 2009: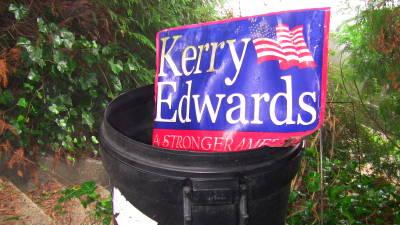 I guess after listening to President Obama's speech, I was just feeling that it's time for a change.