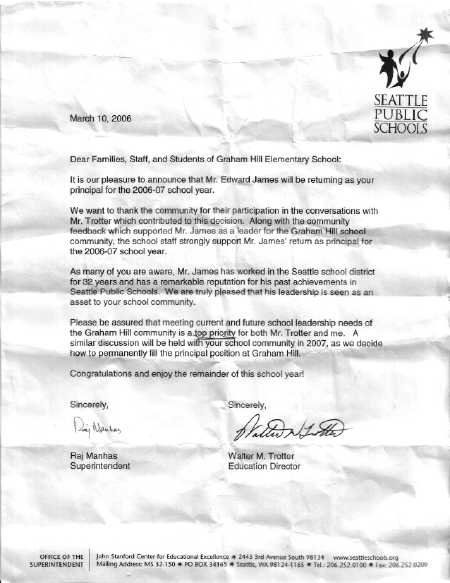 If Raj Manhas is a man of his word, he will remove Graham Hill from the closure list.
Due to mismanagement and neglect on the part of the school district, Graham Hill elementary has had 8 principals in 6 years. Operating under yet another interim principal, and faced with the prospect of yet another "permanent" principal being assigned without our input, our PTA held a contentious meeting in March with district Education Director Walter Trotter, at which we were promised that our needs would be the district's "top priority."
At this meeting Trotter proposed a deal, in which our current interim principal would stay on for another year, so that we could have the opportunity to recruit a principal from those made available after school closures were announced. We agreed, and as an organization the PTA decided to trust the district and not push our grievances to the press (something we were extremely capable of doing.)
However, it now seems clear that at the time this promise was made, Graham Hill was already being targeted for closure. We were scammed.
I remain convinced that the entire closure process is flawed… that the CAC had neither the time, the resources, the data or the expertise to make such profound decisions, and that the district has failed to provide reliable data on demographics, enrollment projections, first-choice ranking, and estimated savings. It is also quite clear that criteria were not applied equitably within and across quadrants.
No doubt there are some schools that warrant closure, but district officials have absolutely failed to support the assertion that there is an imperative to quickly close a swath of schools now, or that it is developing real solutions to address the district's long term structural budget deficit. And so Superintendent Manhas, I urge you to step back, take your time, and carefully evaluate each and every school on the list. Visit the schools… talk to the families and staff… walk the hallways for yourself. If you are not absolutely convinced that it is a failing school — under-enrolled, under-performing, and in a sub-par building — then delay closure. Take your time. You can always close more schools next year.
But if you blindly follow the CAC's recommendation under the red herring that no list will be perfect, you will destroy communities that can never be put back together again, while providing no real benefit to the affected students or the district at large.
Finally, I want the superintendent to understand that I speak now, not as a representative of our PTA, but merely as an angry parent who happens to have a widely read blog at his disposal. If Raj Manhas is a man of his word he will remove Graham Hill from the closure list. If he proves not to be a man of his word, I promise that I will use what influence I have to remove him from the superintendent's office.