In the most positive assessment since Gallup started polling the question in 1956, 48% of Americans now say the amount of federal income tax they pay is "about right," while 46% say it is "too high," marking a dramatic shift from the historic norm.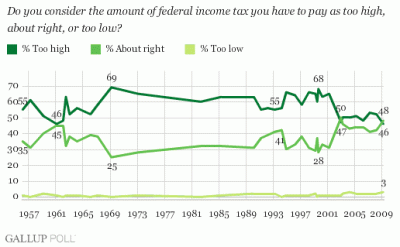 On the macro level, this shift in opinion should serve as a warning to Republicans who have long relied on cutting taxes as the central theme of their political campaigns.  But on the local level, I hope it prompts Democrats in Olympia, and their various constituent groups, to reevaluate the conventional group-think that insists an income tax is a non-starter for Washington voters.
Yeah, I know, I know… a broad personal income tax got trounced at the polls the last time it was on the ballot back in 1973, and an off-off election year is typically the worst time to put a progressive measure before voters who will surely skew to the right.  But this isn't 1973, and in the midst of the Great Recession and an extended Obama honeymoon, we may be passing up a once in a generation opportunity to enact real reform.
Voters are in a mood.  They're anxious about the economy and angry at the fat cats on Wall Street who led us into this crisis, which may help explain why a high-earners income tax is polling just about even with a third of cent increase in the sales tax. Obama campaigned on raising taxes on households earning over $250,000 a year, and he won by a wide margin here in WA state, so why wouldn't WA voters support the same locally?  Well, given the right package, the right reasons and an effective communications campaign, they might.  I'm not saying a high-earners income tax measure is a sure thing, but for the first time in a long time, neither is its failure.
So the next time someone points to 1973 as evidence of political futility, I say point to this Gallup chart illustrating the dramatic shift in national attitudes over the past 36 years, and ask the question:  are Washington voters really all that different from the rest of the nation? Personally, I don't think so.