Pigs are flying, they're throwing snowballs in Hell, and I'm about to agree wholeheartedly with the Evergreen Freedom Foundation (EFF).
Gov. Christine Gregoire had modestly proposed eliminating a handful of tax loopholes, valued at more than $50 million annually, to help close the state's yawning budget gap, but as the Seattle P-I reports this morning, the Legislature failed to repeal a single one. That leaves 503 tax breaks — over $32 billion a year — still on the books. The Legislature also failed to enact a bill that would have required periodic review of tax exemptions, a "good government" issue I felt so strongly about, that I actually drove down to Olympia to testify before the House Finance Committee on its behalf.
While I don't remember seeing Jason Mercier testify at the hearing, from his quotes in this morning's P-I, the EFF's budget analyst and I apparently agree that all of the state's tax exemptions should be reviewed, and in a perfect world, revoked.
"From our perspective, you shouldn't have any tax exemptions at all. The state should have a uniformly low tax rate that allows businesses to prosper or fail based on the free-market system, and not corporate welfare," he said. "The answer is not to pick and choose the state's winners and losers based on the power of a firm's lobbyist, but to treat everybody equally with a uniformly low rate."

He said that addressing problems with the tax code by granting exemptions is a solution for one business, "but not for the rest of the employers and employees who are being harmed by that problem.

"That was the biggest frustration with the state's Boeing thing. Boeing wouldn't have needed this massive tax break if the state had been addressing the legitimate business climate problems over the last decade," he said.

"It's a vicious cycle now because you have a bidding war between the states, trying to out-subsidize each other instead of trying to make the best business climate."
I couldn't agree more (which is really saying something, considering I vacillate between thinking the EFF's political agenda is either stupid… or just shy of evil.) And considering Jason's comments, I can't help but wonder why the EFF didn't join me in supporting Ron Sims' Tax Plan, which would have met both of their stated goals: it eliminates business tax exemptions by eliminating business taxes entirely. As I wrote back in August:
While I personally had some initial reservations over this aspect of the plan, I have grown to appreciate it's subtle brilliance. Eliminating corporate taxes is not only a clever political move in regards to the plan's passage, it also eliminates one of the most corrupting forces in Olympia… the annual feeding frenzy of corporate lobbyists influencing legislators to pass billions of dollars of special interest sales and B&O tax exemptions. Without corporate taxes there can be no corporate tax exemptions. While the Sims' plan is sure to be a job creator over all, it is certain to put more than a few lobbyists out of work.
To be fair to Jason, Sims' plan was met with a stunning lack of imagination from both the right and the left. Sims proposed to eliminate the state portion of the B&O and sales tax, and replace the revenue with a graduated, personal income tax. This would have left the state with no direct tax on business operations, a thought so shocking to some of my fellow liberals that it sent many to orthopedists with tragic knee-jerk related injuries. Meanwhile, for people like Jason, the thought of even thinking about considering discussing the thought of the remotest possibility of a debate on an income tax, is apparently analogous to clutching a copy of Das Kapital to your breast, while belting out a rousing chorus of The Internationale.
I, on the other hand, have my eyes firmly on the prize: correcting Washington's cruelly unfair tax system… by far the most regressive in the nation. And that is something the Sims Plan would clearly do, in spades.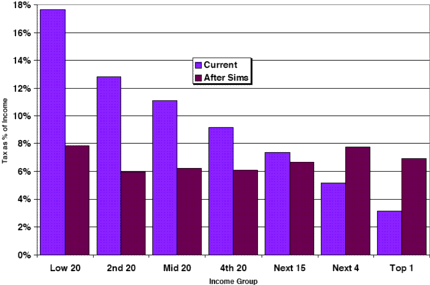 If fully implemented, the Sims' proposal would transform Washington's tax structure from the most regressive in the nation to one of the least. That it would also create the most pro-business state tax environment in the US, while eliminating the economic distortion generated by our tangle of tax exemptions, is a definite bonus. Believe it or not, it is possible to be both liberal, and pro-business, and I'm confident that if more people took the time to seriously consider the Sims Plan, it could garner enthusiastic support from both sides of the aisle.
But I'm guessing that's not what Jason and the EFF really want. For when they talk about eliminating taxes on businesses, they're not particularly interested in replacing the revenue from somewhere else. Their goal is not just to eliminate taxes, but for the most part, to eliminate much of government as well.
So enjoy the porcine aviation while it lasts, for I'm guessing it will be cold day in Hell before the EFF and I voice agreement on tax policy again.