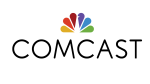 During her successful campaign for Seattle City Council I pooh-poohed critics who denounced Socialist Alternative candidate Kshama Sawant as unelectable due to her party's stance in favor of collectivizing the Fortune 500. She was running for city council, for chrissakes. It's not like she was going to make collectivizing Boeing a councilmanic priority.
But the collectivization thing does rub a lot of people the wrong way, striking them as both un-American and impractical. And while I generally share that skepticism, that won't stop me from making the following bold proposal: Collectivize Comcast.
Comcast is fast becoming a dangerously large corporation with the economic power, media might, and political influence to twist public policy contrary to the public good. While perhaps not quite yet a monopoly in the old Ma Bell sense of the word, its dominant position as a broadband provider threatens to saddle American businesses and consumers with slower speeds and higher prices than much of the rest of the world enjoys. Comcast's push to end net neutrality could impose a toll on innovation, while its self-interest in sucking profits from the infrastructure it has rather than investing in the infrastructure we need must be viewed as nothing less than a tax on US economic competitiveness.
Besides, everybody hates Comcast. So let's collectivize it.
And by "collectivize," I don't mean taking their assets by eminent domain or some extraordinary property grab. I mean collectivizing the American way: via a hostile takeover of a public company… but financed by US taxpayers rather than hedge fund managers or LBO conmen.
At about $50 a share, Comcast currently has a market capitalization of just under $130 billion. Offer $60 a share—a 20 percent premium—and a majority of shareholders would likely sell out in a heartbeat. And you don't even need to buy all the shares. Just enough to control the board. For a federal government that's created trillions of dollars in new money via "quantitative easing," that sort of cash would be chump change.
And we don't even want all of Comcast. Once taxpayers seize control of the company we can recoup some of the cost by selling off all the parts we don't need: NBC/Universal, its professional sports teams and stadia management business, and other valuable properties. All we want is the broadband business—a public utility—as the basis for building a national, publicly-owned broadband network.
It's not as outrageous a proposal as it may at first sound. The federal government bought controlling interest in GM, Chrysler, Fannie Mae, and Freddie Mac when they faced collapse, because our leaders determined it to be in the public interest. Well what could be more in the public interest in the 21st century than assuring open and equal access to an affordable, high speed Internet?
Besides, just talking about collectivizing Comcast has value in itself. Remember, everybody thought Sawant was crazy for campaigning on a $15 minimum wage, and a year later, Seattle is on the verge of passing one. Debating a public takeover of Comcast seriously, by whatever term of art we choose, would be an exercise in going on the political offensive. And if executives at Comcast and other telecom giants begin to feel some genuine pushback, perhaps they'll think twice before pushing their anti-competitive agenda too far.