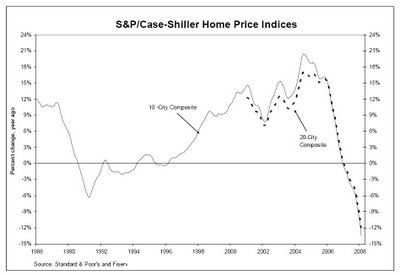 Housing market…? Worst year-to-year monthly decline ever.
There is already a ton of supply. With foreclosures increasing at incredibly high rates supply will obviously increase. At the same time, US consumers are faced with record levels of household debt and payments on that debt, a tanking job market and declining income. In other words, supply and demand of the housing market is seriously out of whack which will lead to declining home prices for the foreseeable future.
Let's see, a housing market collapse wiping out equity for millions of homeowners, $4.00/gallon gasoline, skyrocketing food prices and falling incomes. Are you feeling better off than you did eight years ago?
I sure hope John McCain continues to campaign on more tax cuts, more deregulation and more war.