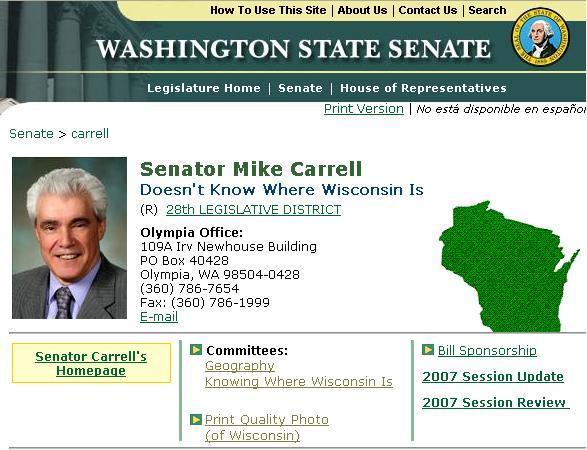 State Senator Mike Carrell (R-28) tried to undermine Senator Karen Keiser's universal health-care bill at the hearing this afternoon by grilling her star witness, state Senator Jon Erpenbach from Wisconsin.

[…]

Senator Carrell tried a little scare mongering. He brought up the right wing's shorthand for socialism. "Given that Wisconsin is on the border with Canada," Carrell began harrumphing, "doesn't your plan parallel theirs?"

Senator Erpenbach laughed—gave Carrell a geography lesson—and appropriately Carrell's loaded analogy quickly came unglued. "No, it doesn't [parallel the Canada model] except that everyone is covered," he quipped getting another round of laughter at the geographically challenged Republican's expense.
Somebody's getting an atlas for Christmas.